Residential HVAC Services
Serving Rhode Island Homeowners With HVAC Installation, Repair & Maintenance
Creating Comfort When You Need It The Most
Your home is your oasis you retreat to where nothing else matters in the world. You can block out the hard day you had at work, the fact you had to wait in line at the DMV for two hours, or the fact that your son or daughter did not make their school's sports team and they are devastated. It's the place you can relax and be comfortable, worry-free.
Atlantis Comfort Systems offers residential HVAC services, including AC repair and heating repair in Rhode Island. We've been creating comfort systems for over 10 years, so when the pressures of the world become heavy, you can rest easy underneath your roof. Contact us for a free quote today!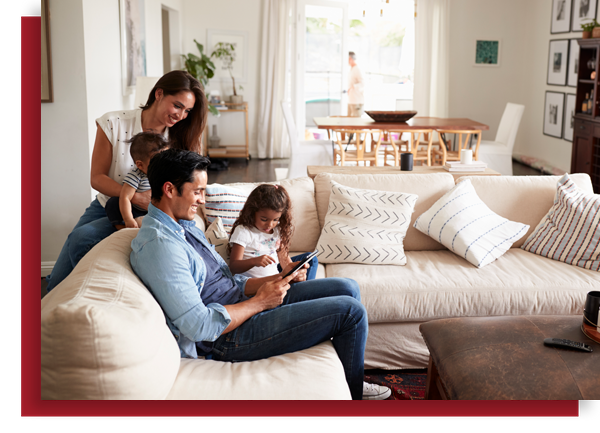 RESIDENTIAL HVAC SERVICES WE OFFER IN RHODE ISLAND
Heating repair
Furnace installation
Air conditioning maintenance
Air conditioning repair
Furnace maintenance
Air conditioning installation
Ductwork services
You spend a lot of time in your home. In fact, outside of work, it's the place you spend the most time, even though sometimes it seems like you are never home because you are too busy living a full life. You may spend lots of time and money making your home yours, from remodeling the kitchen or bathroom to filling your home with mementos from your life and items that make you happy, such as a favorite chair, lots of books, a warm pellet stove, and pets. After all, you do spend a lot of time at home, so you want to be comfortable while you are there.
At Atlantis Comfort Systems, we understand that energy efficiency and comfort are important to homeowners. Whether your energy bills are higher than you'd like, or your HVAC system is struggling to regulate the temperature of your home, we can help! For more than a decade, our expert team has been providing the residents of Rhode Island and the surrounding areas with professional HVAC services. From single- to multi-family properties, we're pleased to be able to offer our knowledge and skill to improve the function of your home.
We offer all the benefits of a large commercial quality contractor on a smaller scale for your personal residence. Atlantis Comfort has been committed to the residential market for 40 years and we work with some of the best builders in the state. We have a dedicated division who specializes in new residential construction installations and existing residential retrofits. The delivery of a 100% certified system with all equipment items started and operationally verified, all test and balance reports scrutinized, and all control sequences documented means that your system will produce the designed and desired results. As a certified test and balance contractor and a certified controls contractor, Atlantis Comfort has the tools to insure system performance.
Atlantis Comfort Systems helps homeowners achieve their dream home with the best residential HVAC services in Rhode Island. For over 10 years, we've hired and trained the best HVAC technicians to provide you with the comfort system you desire. We leave no stone unturned if you call us for a preventative residential HVAC service, and we ensure no matter what HVAC service you need, from a ductwork cleaning to an AC installation service, that you are 100% satisfied with the job. We invest in energy-efficient HVAC systems, which not only do a superb job of serving your heating and cooling needs, but also helps to reduce your carbon footprint on the world. Below, we'll examine our residential HVAC services a bit more in depth. Call us today for a free estimate!
ATLANTIS COMFORT SYSTEMS' RESIDENTIAL HVAC SERVICES

Air Conditioning Installation, Repair & Maintenance
While Rhode Island is mild for a good part of the year, there are many hot days come the height of summer where you need a functioning home air conditioning system to keep you comfortable. Air conditioning helps you to sleep better at night, focus more while at home, and thus get more work done, and improve your home air quality since the air is constantly being circulated and recycled. Let's face it, if you are extremely hot, all you want to do is sit. A home air conditioning system will help you get moving again.
Atlantis Comfort Systems offers residential AC installation, repair, and maintenance in Rhode Island. Basically, anything that has to do with your cooling system, we can help. If your air conditioner decides to start blowing hot air, it probably needs a thorough cleaning with our residential AC maintenance check-up services. If your AC is extremely old and reliable, we can help you with an AC installation service. Or, if your AC unit has gone from purring like a kitten to barking like a dog that wants back into its home, you likely need a residential AC repair.
When you call Atlantis Comfort Systems, you will reach one of our friendly customer service technicians who can get you scheduled for an AC inspection in your Rhode Island neighborhood. An AC inspection entails:
Electrical systems and wiring checks
Thermostat checks
Inspection of the fuses
Checking the drain pan and evaporator coil
Inspects the AC unit's fan blades for signs of damage
Inspects the service valves for proper operation
Tests all pressure controls and test relays
Inspects your duct work for energy loss
Inspects lines for any signs of leak
And so much more!
Your residential AC system in your Rhode Island home is too important to neglect. Call Atlantis Comfort System, an HVAC company, for your next AC service today!


Furnace Installation, Repair & Maintenance
There's almost nothing like coming home to a warm house in the middle of the night on a cold Rhode Island night. When you step across the threshold and the blast of air hits you, you feel relaxed and ready to rejuvenate for the next day. You are more willing to get tasks done around the house instead of cuddling up inside a blanket, and getting up in the morning is definitely easier when you aren't faced with a cold home.
Atlantis Comfort Systems, an HVAC company, offers the best home furnace services, including heating installation, furnace repair, and maintenance services. We understand that being warm is not only vital to your health, but it also keeps you mentally sharp and on top of your game. Plus, no one likes typing with cold fingers!
When you partner with us, you are getting 10 plus years of our company's experience working for your residential heating needs. Our expert residential heating specialists can diagnose your misbehaving furnace and offer up a solution right away. Sometimes, your old furnace may need to be replaced. That's okay, because now we offer high-efficiency furnaces instead, saving you money on your home heating bill. You may just need a tweak here and there, so a heating repair is necessary for your Rhode Island home. Or you may just need a good cleaning to get your furnace operating optimally again. Below are some of the things our furnace technicians look for in a heating inspection:
A clean air filter

Checks the pilot light and the burners

Checks the thermostat

Inspects the blower

Inspects your heat exchanger

Inspects your finance for loose wiring or nuts and bolts

Checks the carbon monoxide levels

Checks all electrical components

Inspects the gas lines

Check for proper functioning

And so much more!
At Atlantis Comfort Systems, we can provide for all of your residential heating needs. Call and schedule a free estimate today!

Duct Work
The third wheel of a well-functioning heating system is your ductwork. So often overlooked for the integral job it does in your heating system, your residential ductwork moves treated and untreated air throughout your home. Air is taken from your home and moved into the heater or the air conditioning unit. The air is then either heated or cooled and then pushed back through the ducts to be distributed throughout your home. This entire process depends upon your home's return vents in order to endure your home's heating and cooling system operating efficiently and a uniform temperature is reached in every room.
Atlantis Comfort Systems in Rhode Island understands how important residential ductwork is to the smooth operation of your HVAC system. We ensure that your ductwork is installed properly to ensure minimal air leakage, good indoor air quality, and an efficient HVAC system that won't have to work to keep your home at the desired temperature. Poorly installed ductwork is one of the leading causes of inefficiencies in your HVAC system and can cost you a lot in heating and cooling costs. Our expert residential HVAC technicians ensure that all the seams are sealed and that insulation is used properly to separate your ductwork from the attic and/or crawl spaces.
By partnering with Atlantis Comfort Systems, we can check your existing residential ductwork to make sure there are no air leaks. It is also important that the size of your ductwork matches the size of your residential HVAC system for efficiency purposes. We talk a lot about efficiency in the HVAC world because the more efficient your residential HVAC system, the less you'll pay in heating and cooling bills and the longer your HVAC system will last because it won't have to work so hard. When looking for a great residential ductwork installation professional, here are a few tips:
Get written estimates. Having a residential HVAC professional come to your home and check out your HVAC system and ductwork is a great way to get a feel for the company. Are they thorough while at your home, or do they seem in a rush? Look for a heat-load calculation as well to be provided on your ductwork estimate.

Understand your options. While your HVAC technician is at your home, don't be afraid to ask questions and get a quote for your HVAC options. Most residential HVAC professionals can tell you the operating costs of your heating and cooling options, which can help you make a decision.

Find the best value. As most of us know, you get what you pay for. While one residential HVAC estimate may be cheaper than the other, if the other comes with a great financing program, regular maintenance and inspections, or a service agreement, the more expensive option may hold a greater value in the end.
Atlantis Comfort Systems offers the best residential ductwork services for your Rhode Island home. When you partner with us for all of your residential HVAC services, you can rest assured your residential HVAC system and ductwork will be energy-efficient and will last. Call our HVAC company today!
CHOOSE ATLANTIS COMFORT SYSTEMS IN RHODE ISLAND TODAY
Atlantis Comfort Systems has dedicated the last 10 years to ensuring your residential comfort systems are in superb working order so that they are ready when you need them. From heating your home on cold nights to cooling on hot days, you need a reliable heating and cooling system that you don't have to think about. By investing in regular preventative maintenance with us, your HVAC system will be in top working order so your heating and cooling bills are maximized and you don't have any emergency HVAC repair needs. By caring for your residential HVAC system, it will care for you.
We are proud of the heating and cooling services we can offer to Rhode Island residents. We offer extensive, on-going training to our professional residential HVAC technicians so that they can handle any HVAC issue that may arise in your home. Diagnostic work is critical when you call for a residential HVAC repair, and having experience and knowledge of every aspect of the working components of your air conditioning unit and furnace is indispensable to getting not only a timely HVAC repair but a correct one as well.
The team at Atlantis Comfort is here to help you find the best solution to meet your needs. From a brand new system installation to repairs and scheduled maintenance, we promise to provide you with educated suggestions and help you make informed decisions you can feel good about. With friendly service and exceptional workmanship being two of our top priorities, you can feel confident in choosing Atlantis Comfort for all of your residential HVAC needs. All residential projects are checked by one of our field supervisors to ensure quality and attention to detail. To learn more about the residential HVAC services we offer, contact us today to speak to a member of our team. We look forward to helping you.
Get Your SpeedyFast Quote Today!
Atlantis Comfort Systems is proud of the legacy we've built so far, and we look forward to working with you for many years to come. Call our Rhode Island HVAC company today!