The Best Commercial HVAC Services
Serving Rhode Island Businesses With HVAC Installation, Repair & Maintenance
Being Comfortable While at Work
Being comfortable while at work is important. Employees are more productive, more focused, and happier when the temperature around them is not too hot nor too cold. On top of that, when the temperature is just right, this means your HVAC system is working optimally, saving you money that impacts the bottom line.
Atlantis Comfort Systems offers the best commercial HVAC services in Rhode Island. We offer both commercial heating and cooling installations, repairs, maintenance, and retrofittings. For more than 10 years, we've been the trusted name in heating and cooling for businesses.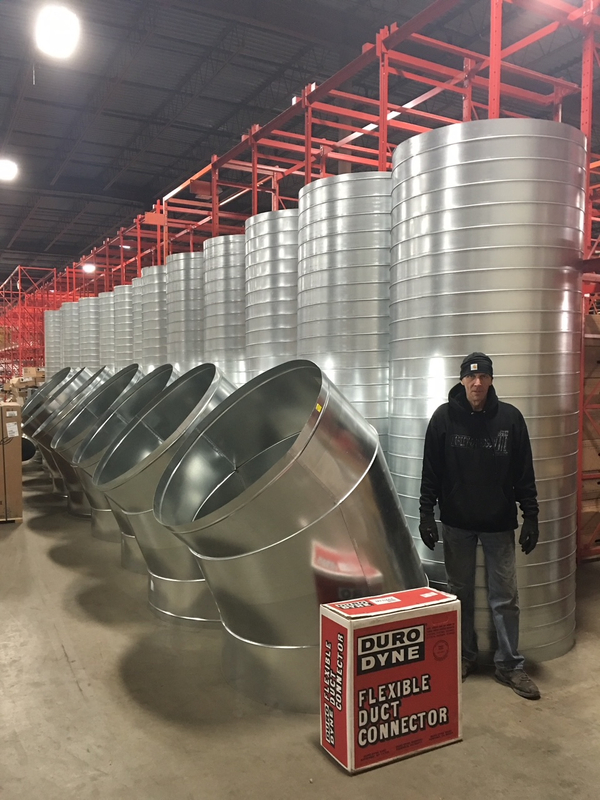 COMMERCIAL HVAC SERVICES WE OFFER IN RHODE ISLAND
Heating repair

Furnace installation

Air conditioning maintenance

Air conditioning repair

Furnace maintenance

Air conditioning installation
Commercial HVAC
HEATING | COOLING | SERVICE | INSTALLATIONS
Commercial heating and cooling is vital to the functioning of your business, whether you are a call center, a marketing company, a restaurant, a coffee shop, or an industrial warehouse. In fact, one could argue it is critical for all businesses. For example, a coffee shop is a place where patrons meet friends, hold business meetings, and just go to escape the world for a bit and enjoy a good cup of coffee they don't have to make themselves.
However, if your commercial HVAC system is on the fritz, no one is going to want to hang out if they are too hot or too cold. They may even go someplace else the next time if your heating and cooling system isn't functioning properly. The same can be said for a restaurant. Depending on your warehouse, you may rely on your commercial HVAC system to keep the items in your warehouse at a certain temperature for the goods that you ship and store.
Atlantis Comfort Systems in Rhode Island understands the importance of a reliable and of a working HVAC system for your success. Having a non-functioning HVAC system is distracting and unpleasant all around and should be avoided at all costs. With efficient and effective HVAC services, you'll never have to worry about your HVAC system, which is our goal. Below, we'll go over our commercial heating and cooling services, and we invite you to call us with any questions or to get started today!
ATLANTIS COMFORT SYSTEMS' COMMERCIAL HVAC SERVICES

Air Conditioning Installation, Repair & Maintenance
The advent of air conditioning has not only made possible the refrigeration that we know today, but it's also allowed us to be extremely comfortable in the hot summer months. Atlantis Comfort Systems in Rhode Island offers commercial air conditioning installation, repair, and maintenance services. We also offer retrofittings, which can lead to huge savings when your commercial HVAC system is operating efficiently.
For most small businesses, keeping the lights on and their heating and cooling system running is a big part of their operating expenses. Whenever you can save some money on your utility bills, you should consider it. One way to do so is to ensure your commercial heating and cooling never require a huge repair expense, and the best way to do that is to invest in our commercial preventative HVAC plan.
Our commercial preventative HVAC plans will help you to save money every year by keeping your HVAC system running smoothly and efficiently. Since commercial heating and cooling systems are used more rigorously, your commercial HVAC system can wear out much quicker than a residential HVAC system. This means that it would be prudent to take care of your HVAC system before something majorly goes wrong.
Atlantis Comfort Systems, an HVAC contractor, offers a customized commercial preventative HVAC plan that will perform regular inspections and maintenance, as well as any repairs on your cooling or heating system that are needed, in order to ensure that your HVAC system is using as little energy as possible, while still providing the level of service that is expected of it. The benefits of commercial preventative HVAC services include:
Increasing the longevity of your HVAC system

Deferring capital replacement costs

Reducing energy consumption

Saving money on utility bills

Less downtime

Prevents major problems down the road

Fewer emergency repairs

Increases operating efficiency
As a commercial business, it's important to always be on the lookout for ways you can improve. A commercial preventative HVAC maintenance plan is one way to cut your costs over time.


Furnace Installation, Repair & Maintenance
Heating is a fundamental human need and is indispensable to human life. If we get too cold, we are at risk of dying, such as with hypothermia. It's probably safe to say that most people can stand being a little too hot, but most do not like being cold all that much. Thus, having your commercial heating system in tip-top shape is paramount to everyone's comfort.
Atlantis Comfort Systems offers commercial furnace installation, repair, and maintenance services in Rhode Island. If you have a problem, call us right away. We'll do everything we can to send one of our expert heating technicians to your place of business for a diagnostic and repair service. Since commercial heating systems are often much larger and a bit more complex than residential heating systems, we ensure if we need parts that we have them in stock and ready when you need them. If not, we'll have them ready as soon as possible for your heating system to be up and running.
Oftentimes, a business will call us looking for a retrofitted heating system. Their commercial heating system is near the end of its life, and they are seeking an upgrade that will not only reduce their carbon footprint on the world, but will also drastically cut their heating and cooling costs. We partner with some of the best commercial heating companies in the world to bring you the most energy-efficient systems for your commercial business. These systems can cut energy consumption by up to 30%. Call us today for a free estimate if you are interested in a commercial HVAC retrofitting service.
Choose Atlantis Comfort Systems for Commercial HVAC Service
CALL ATLANTIS COMFORT SYSTEMS IN RHODE ISLAND FOR YOUR COMMERCIAL HVAC SERVICES
Atlantis Comfort Systems in Rhode Island offers the best commercial HVAC services. Whether you need heating and cooling service or furnace installation services, we can help. We understand that when your HVAC system goes down that time is of the essence in order to keep your customers and employees happy. Whether your HVAC system is just old and needs replacing, an electrical issue has cropped up, or some other problem has occurred, our expert commercial HVAC technicians will have your heating and cooling restored quickly.
We highly recommend that you invest in our commercial preventative HVAC plans. By doing so, you will be able to reduce downtime by up to 35%, cut your overall energy use, prevent up to 75% of breakdowns, and lower your maintenance and repair costs by up to 20%. From a business standpoint, this only makes sense. Further benefits include that you won't have to remember to schedule our HVAC services; we just show up, and you will have peace of mind knowing that your HVAC system is in top working order.
As a small business owner, you have more important things to think about than your HVAC system. Automate its care and maintenance much like you would a recurring bill, and call us today to get started with our heating and cooling maintenance plan!
Air conditioning installation, repair, & maintenance
Furnace installation, repair, & maintenance
Get Your SpeedyFast Quote Today!